The Ormond sale comes amid a hot and cold Melbourne auction market, with some homes selling above expectations and others going in.
558 bids were made in Melbourne on Saturday. Late in the evening, Domain Group recorded 62.4 percent pre-licensing out of 420 reported results, with 43 bids cancelled. Outbids are considered unsold assets when calculating the closing amount.
This is the first time Melbourne's pre-auction price has reached more than 60 per cent this summer. A permit rate above 60 per cent is considered a balanced market, and the last time Melbourne exceeded this threshold was on May 28 at 63.7 per cent.
A four-bedroom home in Creedon has sold for $1.2 million to a family moving from Vermont.
The contemporary home at 51 Wicklow Street sold with a price guide of $1.1 million to $1.2 million.
Bidding opened at $950,000 before increments dropped to $20,000 and $5,000, and a series of offers took the price to $1.1 million.
McGrath Croydon principal agent Paul Fenech, who has owned the property since 2015 and built another property at the back of the block, said the seller was delighted with the sale.
Fenech said while properties at the top end of the market were selling, others were finding it harder as interest rates rose.
"There are a lot of buyers who don't think they need to buy right now, so they're late. [prices] He throws more," Fenech said. "Younger buyers are making lower offers — as low as $10,000 — because they're worried interest rates will go up."
A buyer who won $2.31 million for a four-bedroom house at 42 Forrester Street in Essendon, north of the city, now plans to demolish and rebuild.
Nelson Alexander Essendon partner David Vaughan said five bidders competed in the sale, although the winning bid was not taken in the house until auction day.
"The buyer just wrapped up on the day and took a quick look inside before the auction," Vaughan said. "There were a few other developers who jumped in, so it became a big auction with a lot of people."
A fully renovated terraced house at 123 Barclay Street in Brunswick East has gone under the hammer for $2.19 million to a young family looking to upscale their neighborhood. They were one of two identical parties on the four-bed auction.
Nelson Alexander Carlton North sales agent Charlie Barham said despite the negative market reports, well-renovated homes were still fetching good prices.
He said those in need of work were difficult to sell because of rising construction costs and a shortage of land for developers.
"Construction costs are one thing, but trying to find an available builder is very difficult," Barham said.
The auction was across the street from a home sold last weekend at 110 Barkley Street, where buyers spent $1,500,500 on a porch that could be renovated.
Not all homes go under the hammer. The Greensboro home was listed, then sold outright for $710,000.
A three-bedroom fixer-upper at 5 Russell Street was passed with an offer of $695,000 despite two bidders.
Morrison Kleeman Greensboro auctioneer Mark Walker said the house needs major renovations, making it a tough sell.
"It needs a lot of work and is untenable in its current state," Walker said.
The buyer, who was in the construction industry, wanted to repair the house himself.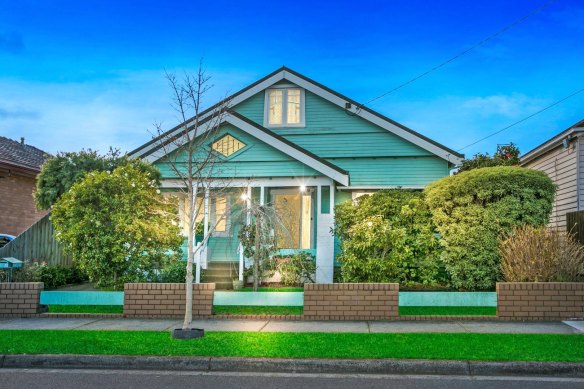 Loading
The time capsule in storage was also not sold under the hammer. The three-bedroom at 70 Queen Street had a guide of $1.2 million, but the seller's bid exceeded $1 million.
Ray White Reservoir selling agent Matthew Clarke said the buyers' agents were negotiating with interested buyers on Saturday, which will complete the sale.
"It could still be sold today or early next week," Clarke said.