no I think we can all agree that, over the last 25 years or so, Channel 4 has been the market leader when it comes to property television. Come on, just believe it. Do you want to do this? Want to bring back DIY SOS? Do you want to fight with me in the magician-glam of houses under the hammer Martin Roberts? You don't. The best property TV in this country has always revolved around the holy trinity of McCloud, Allsopp and Spencer, and it's always better when wide-eyed middle-income buyers pour concrete on a road that could end their marriage. That is how it has always been.
It's the "real world" that messes up this system, which if you've been anywhere near the property market in the past few years, you know is pretty bad. Even buying a starter home for the younger generation is just around the corner. That ripple effect is working itself out across age and income brackets. It affects rent and zip code and how close communities can be. Property TV now has to adapt to a world where the idea of ​​owning property is futile. As a result, the tea-hour-long look in their eyes goes from "This is a show stopper foyer!" To "yeah maybe the little room under the stairs is a bedroom". And So: The Worst House on the Street (Tuesday, 8pm, Channel 4).
WHOTS is fronted by sibling developer duo Scarlett and Stuart Douglas, who are great but sometimes talk to each other like they're in a queue. You'll remember them earlier this year when they quickly backed George Clarke's ouster, which I found very bad. . Absolutely all the idiots were amateurs and none of them made any money (one group bought a house, spent three months painting every room white, then sold it for a £19k profit, that sounds pretty normal and cool!).
I'm not saying property TV should pass moral judgment on the state of the market ("Just clearing this garden will cost the property £20,000 more. That's really bad, by the way"), but it always felt like it. There was a big elephant in the room. Property TV has to adapt to reflect a market that has been affected in ways that property TV cannot fix.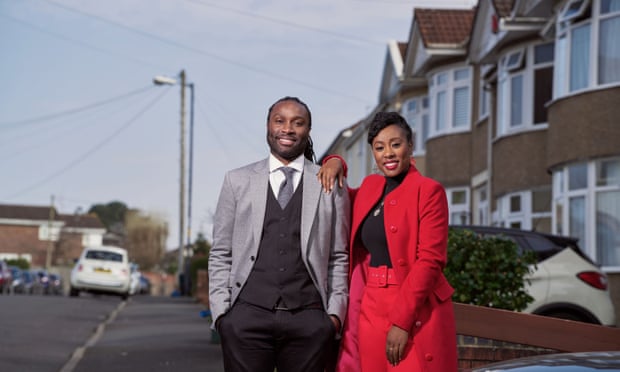 Anyway, the worst house on the street, his concept of … well, um. It's really hard to say. In name people buy a bad house and renovate it into a good house. This week we caught up with a happy young couple, Harry and Micah, and interviewed their neighbors about the house they just bought, which seems to be an eye-opener (neighbors have complained about the house's visual appeal as it devalues ​​their own property. Arguably "British TV" high) – and rarely. Occasionally Stewart and Scarlett come in and offer vague advice. "Buy Kitchen Countertops Directly from the Supplier Instead of a Showroom" This section is about 10 minutes long. Thanks experts. He would never think about that.
But, crucially, no one at WHOTS seems to know what it is. Harry and Ymica constantly say this is their first home, they've sacrificed a lot to buy it and want to turn it into a dream family property, and Stuart and Scarlett constantly talk about how much value they're adding. Scarlett is particularly adamant that a very small change adds up to 5% – so was changing the bathroom's taps and tiles, which (and yes I'm too young to do the maths) equates to £20,000. We're constantly being told that the couple's renovation budget is "only" £40,000.
And then there's some conflicting advice: Harry and Ymica are dead set on removing the chimney breast from four rooms, which would make them livable, but strictly speaking. Instead, they put the same amount out on the porch to add "curb appeal," and later we see them wedged between the end of their bed and the exhaust breast that comes out. You really have to think: Are they making this home nice enough to live in for themselves, or are they making it a little nicer for the next person to buy? No one seems to know who they are doing it for. So maybe, in fact, this is a TV that really reflects the current market situation. There are no notes.